FieldStone Ovine Purebred Charollais Sheep
Charollais rams, ramlambs, ewes and ewelambs are always available for sale. 
Why FieldStone?
At FieldStone Ovine we are committed to quality. The FieldStone Charollais flock is a closed flock free of OPP and B.Ovis, as confirmed by historical results.  Biosecurity measures are in place to limit the introduction of disease to the flock and new sire bloodlines are imported from the UK for introduction to the flock by artificial insemination. 
All FieldStone lambs are weighed numerous times for growth rate performance as part of our sire evaluation process.  Assessments of conformation, ease of lambing and mothering are undertaken to ensure only the highest quality breeding stock is used or offered for sale.
FieldStone primarily uses a grass management system with grain supplementation only fed to ewes just prior to lambing.  Lambs are provided free choice creep until 2 months of age prior to weaning.  With this system we see exceptional growth rates of lambs obtained on pasture and ewes easily maintain condition for breeding in a condensed timeframe.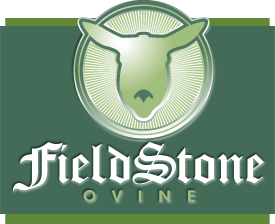 FieldStone Charollais Sheep
"Your best bet for breeding stock and butcher lambs."
"Improved our bottom line"
"Adding the Charollais line to our sheep herd has improved our bottom line with faster turnaround from lambs to market-weight animals."


"Made our flock much easier to birth and manage"
"The Fieldstone Charollais sheep we introduced into our own stock has made our flock much easier to birth and manage. We would highly recommend adding purebred Charollais for all sheep breeders."


"26 Generations"
"After 26 generations, FieldStone Ovine is the Grandad of the Charollais breed in North America"